Happy Monday!
I hope you all had a wonderful weekend! Cody and I spent our weekend studying for finals, which you can imagine does not make for an exciting weekend. However, I just finished one of my finals about 10 minutes ago so I only have two finals left until Christmas vacation. :)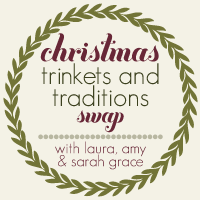 My swap partner was none other than sweet
Laura
from
A Hearty Overflow
. We have so many things in common like our love of photography, sweets, and of course the LORD. Be sure to stop by her
blog
and say hello!
Cell Phone Camera = Worst Picture EVER
Laura sent me a beautiful angel ornament that says "fill your life with joy." How perfect! She also sent me some sweets and a recipe for homemade macaroni. Laura, how did you know one of my favorite foods? I also received a lovely card full of holiday traditions that I cannot wait to share with my family one day.
Thank you so much Laura for the wonderful swap. :) I loved getting to know more about you and your traditions!